Which service should you use for scrubbing your email lists and getting rid of junk contacts? It depends on your needs and purposes.
We are going to compare Email Verification Add-on and Zerobounce service so that you can make the best choice.
Look at the table below and see the comparative features of these two online email checkers: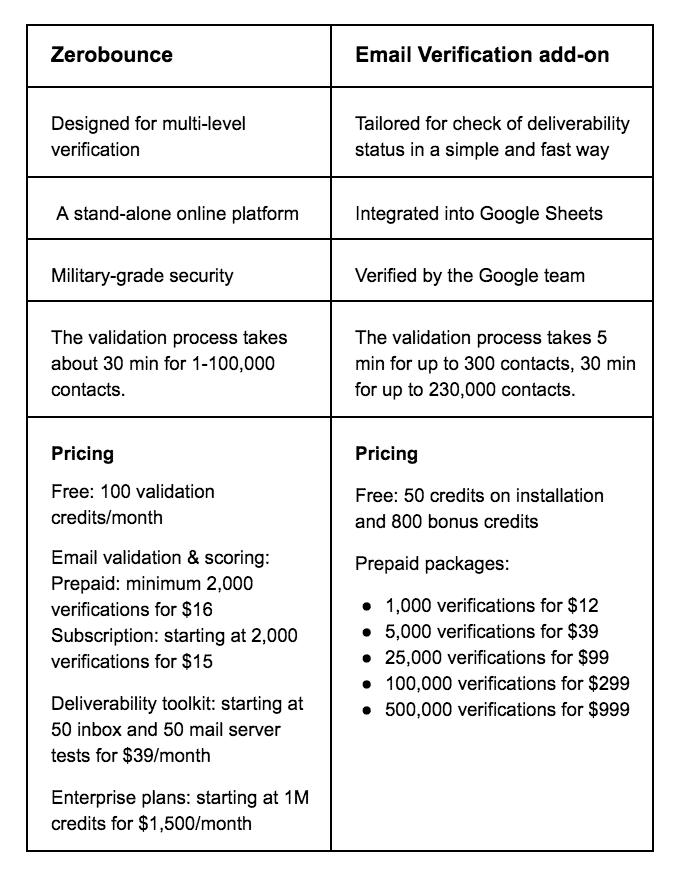 Usage
Registration required
Zerobounce is a stand-alone platform, where you create an account for verifying emails, import the file with your contacts, and download the results. Note, you need to form and structure the file before that.
Easy & straightforward
Email Verification Add-on is integrated into Google Sheets, and it is easy and straightforward to use. The extension is designed to cut off recurring import/ export steps. Install the add-on from G Suite Marketplace and check contacts directly in Google Sheets, where you store your email database.
Security
Military-grade encryption algorithm
Zerobounce uses a military-grade encryption algorithm to safeguard your files and personal information. Moreover, your data is stored only 30 days in its system.
Verified by the Google Team
In turn, Email Verification Add-on is a secure one, as it was verified by Google. To protect your data, the service does not store (or share information) from your validation lookups on its servers.
Capacity
5M contacts per list
Zerobounce provides an opportunity to check one contact by using a single email verifier on the main page of the website. Also, you can upload and validate the mail lists up to 5M contacts.
230K contacts per spreadsheet
With Email Verification Add-on you can verify one contact as well as 230,000 email addresses at a time. Moreover, it is possible to launch some verifications in parallel in different spreadsheets.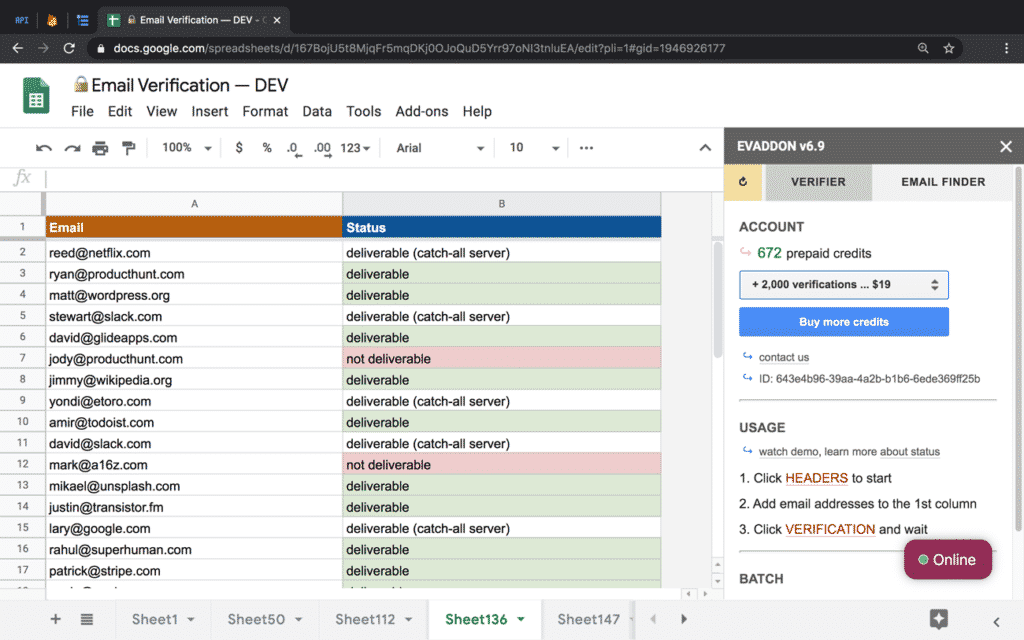 Payment
Two options available
Using Zerobounce service you can choose an appropriate payment method: pay as you go or one of the subscription plans. There is an option to subscribe to a monthly payment and save some money.
Prepaid approach only
In Email Verification Add-on only a prepaid approach is used. The internal research shows 80% of clients verify email data from time to time. So, it is possible to get the needed number of verifications for an unlimited period and use them if necessary.
Conclusion
Email verification isn't a challenge anymore. Most services try to sell you a comprehensive all-in-one service and you have to overpay for this, but there is a simple option. It definitely helps in lead generation, and outreach campaigns to journalists, bloggers, and influencers.