Are you looking for an effective software to verify your email database? There are a lot of services with different available options. Let's dive into a comparative analysis of Email Verification Add-on and Hunter Email Verifier.
Look through a summary table and get to know the main characteristics of these two email verification tools: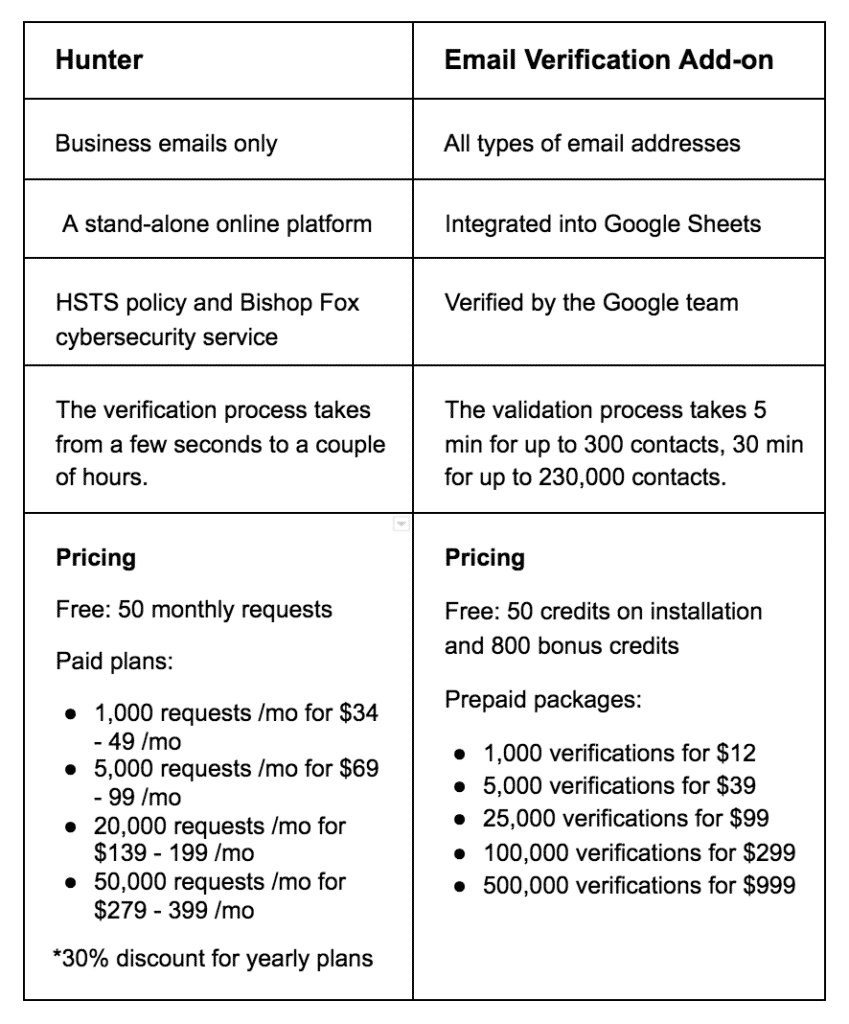 Usage
For professional contacts only
Hunter is a multipurpose email checker for complete verification of business emails from companies and domains. The system doesn't verify webmails such as Gmail, Yahoo, Hotmail, etc. The list of verification fields for every email address includes result (deliverable, risky or undeliverable status), analysis of its format, gibberish, disposable, various server checks, and overall score.
For business and personal email addresses
Email Verification Add-on allows checking deliverability status of business email addresses as well as personal ones. It is possible to check whether a contact is deliverable, connected to a catch-all server, or not deliverable.
Security
At all-levels
Hunter has a strict and systematic HSTS policy for data encryption. Moreover, a firewall on Hunter's servers restricts access from non-approved IP addresses. Last but not the least, it works with Bishop Fox, a cybersecurity service.
Confirmed by the Google team
The security level of Email Verification was verified by Google (it is an obligatory check before a product is published on G Suite Marketplace). Besides, your data isn't stored or shared on its servers, so you don't need to worry about the security of your information.
Capacity
10K contacts in bulk
Using Hunter service you can check as one email address as well as a list of contacts by using a Bulk Email Verifier. You need to upload a file with email addresses and proceed to the verification process. Note: Only up to 200 email addresses per domain name can be checked per day.
230K email addresses in batch
Email Verification Add-on provides an opportunity to clean up to 230,000 contacts per spreadsheet online in Google Sheets. One more convenient feature of the add-on is you can launch some parallel verifications in separate spreadsheets.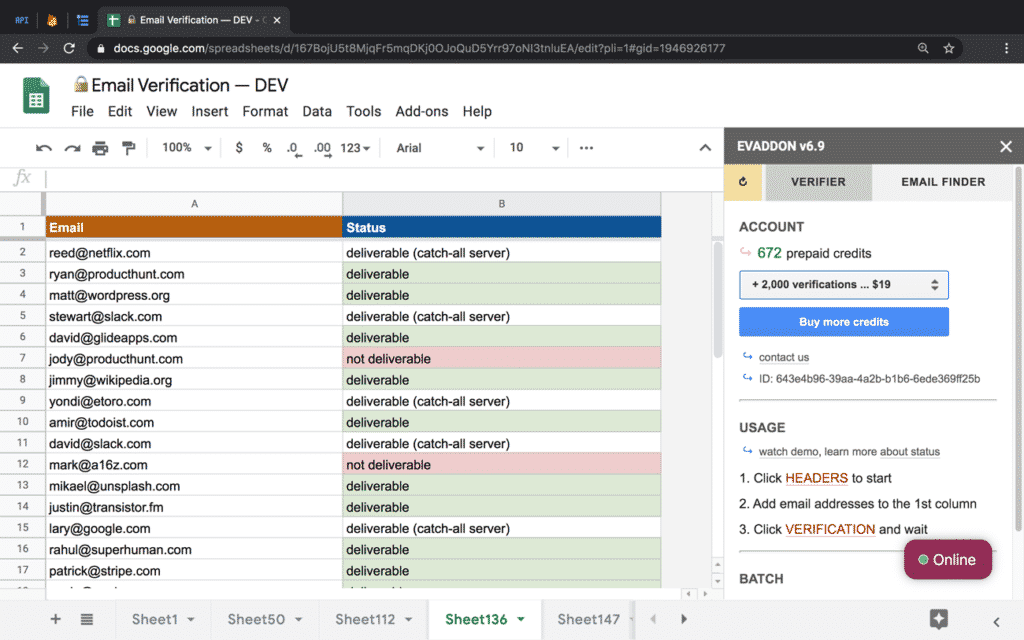 Payment
Variety of paid plans
Free and paid plans are available in Hunter. You can pick the plan, which fits best depending on the needed amount of verification requests and the necessity of additional options, such as Domain Search full results and exports, Multiple Gmail connections, and Priority support.
Pay as you go
With Email Verification Add-on, you can get 50 free verifications by installation and 800 bonus verifications. Moreover, there are some prepaid packages with different amounts of verifications, so you can choose an appropriate one according to your needs. Note: Purchased verifications don't expire and you can use them when you want.
Closing Thoughts
The verification process is the first step in your email marketing campaign. Whatever service you choose, both tools are must-have for salespeople. They can help you to generate leads and revenue.