Do you deal with sending emails? Are you interested in safeguarding your reputation and enhancing your email marketing effectiveness? The solution is found. Email Verification Add-on and Kickbox are reputable products, which will help you eliminate bounce and boost email deliverability.

Essential attributes of these email verifiers are set out below: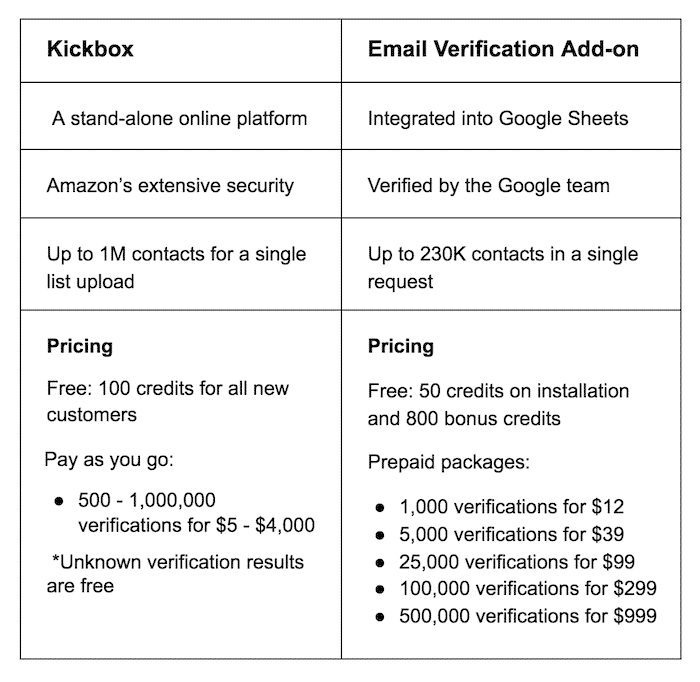 Usage
Easy to use
After creating a free account on Kickbox, you are able to verify one email as well as upload a contact list. The results will appear in the right sidebar and you will see how many deliverable, risky, undeliverable, and unknown addresses are on the list and the information about the quality of the contacts.
Foolproof and intuitive
Email Verification Add-on is an easy and handy tool for verifying your contacts. One of the main advantages of Email Verification Add-on is its integration in Google Sheets. You are allowed to check the deliverability of your contacts directly in the spreadsheet, where you store the database. Install the Add-on from the G Suite Marketplace and go ahead.
Security
Amazon's extensive security
All verification data on the Kickbox platform protected by Amazon's extensive security and compliance assurance. The lists of contacts are stored encrypted on Amazon AWS for 90 days for customer's satisfaction.
Validated by the Google team
Email Verification Add-on is verified by the Google team and has a high-quality security system. You can check your emails in real-time, so your data isn't stored or transmitted on the Add-on's servers.
Capacity
Up to 1M contacts
On Kickbox, the maximum number of addresses for a single list upload can be 1,000,000. The process of verification can take several hours but mostly it depends on the response time from each mail server being connected with.
Up to 230K emails
Using Email Verification Add-on you can inspect up to 230,000 emails in a spreadsheet per single session. Furthermore, it is possible to launch several verification processes simultaneously.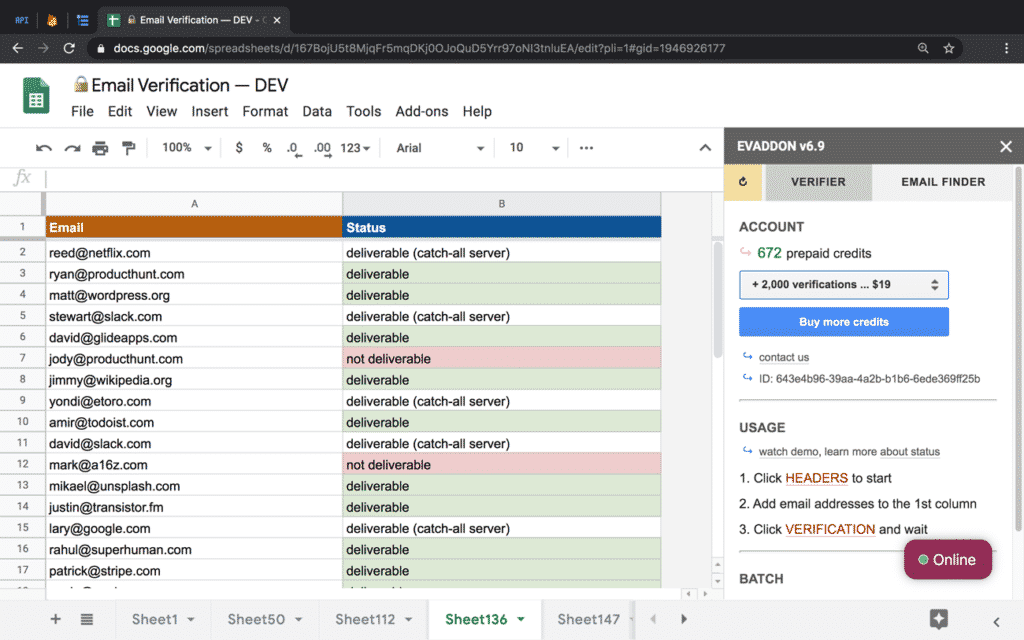 Payment
Calculated approach
Kickbox gives 100 free verifications when you sign up. If you have large email lists, you can pick and purchase a suitable pricing plan. The price depends on the number of credits, which are needed for validating and never expire.
Pre-paid approach
You can get 850 free verification by installing and sharing Email Verification Add-on. In case you require more verifications, select one of the provided packages, and use credits if necessary.
Conclusion
Stop sorting through endless emails and send messages to unchecked contacts. Use one of the above-mentioned professional email verifiers, that provide accurate and fast results. Make your email marketing campaign successful.