Do you have an email database stored in Google Sheets and need to verify the contacts?
It's never been easier to check email addresses for validity directly in the spreadsheet by using our professional tool — Email Verification add-on.
How to verify any email addresses online
Install the Email Verification Add-on.
Find it in the Add-ons tab in Google Sheets.
Click Email Verification —> Start.
Click HEADERS to specify the names of the columns.
Paste email addresses into the «Email» column.
Click VERIFICATION and wait.
The results appear in the «Status» column.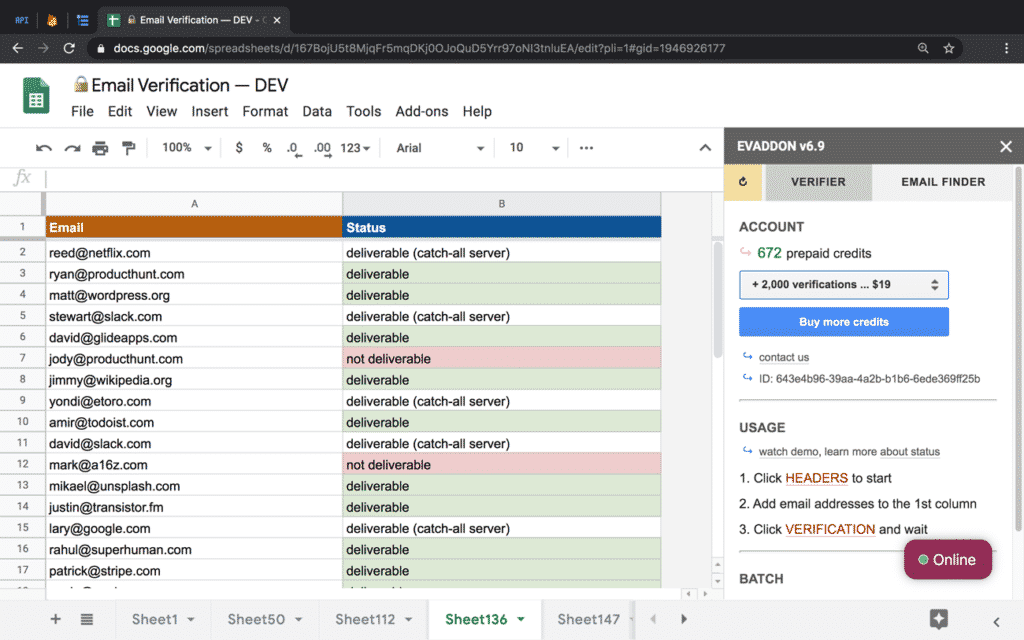 Free email verifier
After installing our online verifier you get automatically 50 free verifications. If you want to have more free verifications, click the «Get free credits» option in the sidebar. As a new customer, you can get:
+ 200 by adding your email;
+ 300 by writing a review;
+ 300 by sharing the add-on on LinkedIn.
Two validation options available
One by one verification
In case your list includes up to 100 contacts, this option fits you. Email addresses are verified one by one and you can see their status in the corresponding column instantly. The process is quick and takes 5 mins maximum.
Batch verification
For big databases — up to 230,000 contacts — you need to apply bulk email verification and validate an entire bulk. The data is verified in the background within 30 mins. The results will be displayed in the Batch section in the sidebar.
How to check if an email address is valid
It is simple to check if a contact is real or not. When you launch verification of the contacts, the deliverability status of each of them will be shown in the «Status» column. There are 4 variations:
– «Deliverable» — the contact is valid and you can reach it safely.
– «Deliverable (catch-all server)» — it indicates the email server receives all the letters sent to any email address under that domain. It is risky if you send a lot of emails to such the server as they can be identified as spam.
– «The mail server doesn't respond» — it signifies there is some issue with responding from the email server: inbox folders are full; the server is temporarily off due to updating, or domain owners have changed settings and it takes time for it to work. It is recommended to check this address again later.
– «Not deliverable» — the address doesn't exist.
How to clean a large email list
If you have a large email list, simply buy credits and use our mass email cleaner. You just pay once and get credits for an unlimited period of time.
Pricing packages:
500 verifications for $10;
2,000 verifications for $29;
10,000 verifications for $99;
25,000 verifications for $169;
100,000 verifications for $479;
500,000 verifications for $1799.
The Add-on is trusted by thousands of small businesses to power their email marketing

Very easy to use.

5 stars (June 1, 2020)
Simple and accurate. I have cross-checked it.

5 stars (May 7, 2020)
Works great, honestly every sales engineer needs this tool in their back pocket.

5 stars (April 17, 2020)
Awesome application. It's helping me clean up my mailing list. My email marketing application won't let me send all my emails out if there are too many undeliverable. This was a huge help!

5 stars (April 13, 2020)
Very useful app integrated in G-suite, it helps me verify emails in bulk, time efficient as well.

5 stars (April 4, 2020)
Works awesome, and amazingly fast customer support.

5 stars (February 26, 2020)
Read all the reviews from our customers on the G Suite Marketplace.
Frequently asked questions
How do you validate the data?
We check an address format, a domain, a mail server, and a response from that mail server. The add-on is connected to the service via API.
How can I be sure that you will not steal my data?
To protect your data, we do not collect (or share data) from your validation lookups on our servers.
What status shows me that my email will not be bounced?
The «deliverable» status is what you need. It shows that a mail server accepts messages sent to this email address.
What are «credits»?
1 credit = 1 email verification. Depending on the number of contacts in your list you should have the same number of credits to verify addresses.
How can I increase the number of credits?
You can purchase more credits in Add-ons —> Email Verification —> Start —> My account by selecting an appropriate package and clicking the «Buy more credits» button.
What is the ID number used for?
When you contact us for help, you should provide us with your ID number so that we can access your account and see your previous actions.
If I have used a needed number of credits, can I get a refund for the remaining ones?
No, you cannot. Bought credits are non-refundable. You have access to them permanently and can use them at any time.
It's not working. What should I do?
Check if there are enough credits in your account. If you still have some issues with our validity checker, please, contact us and our support team will do their best to help you.