Do you want to improve email deliverability? Then, you need to check your mailing list for validity before sending a message. Email Verification Add-on & NeverBounce are essential email validators to manage contact lists and avoid bounces.
Compare the tools and use the one that fully meets your needs: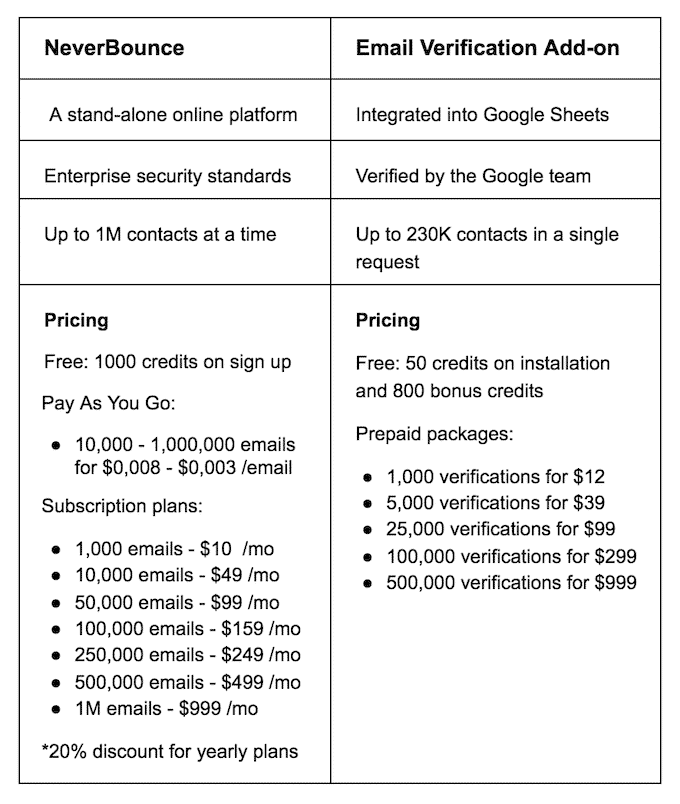 Usage
Account-based platform
On the Neverbounce platform, you need to create an account, where you can validate contacts and see the results online. You will check the deliverability status of your contacts easily and quickly thanks to its user-friendly interface.
Integrated software
Email Verification Add-on lets you verify your contacts directly in Google Sheets. Add the functionality by installing Email Verification Add-on from G Suite Marketplace in a few seconds.
Security
Enterprise security standards
Neverbounce secures all your data and utilizes enterprise security standards. Information about the validity of your contacts is archived in the account for 90 days for your convenience and you can delete it any time.
Approved by Google
Security of Email Verification Add-on is approved by the Google team. It means your data is protected at a high level. Information isn't stored or shared on the services of the add-on.
Capacity
1M contacts at one time
It is available to verify up to 1,000,000 contacts in one session. Upload a bulk list and analyse it before cleaning. After that, you can start the process of validating the contacts.
230K contacts in a single request
Google Sheets capacity allows you to check up to 230,000 contacts in one spreadsheet using Email Verification Add-on. Furthermore, it is possible to validate some contact lists simultaneously.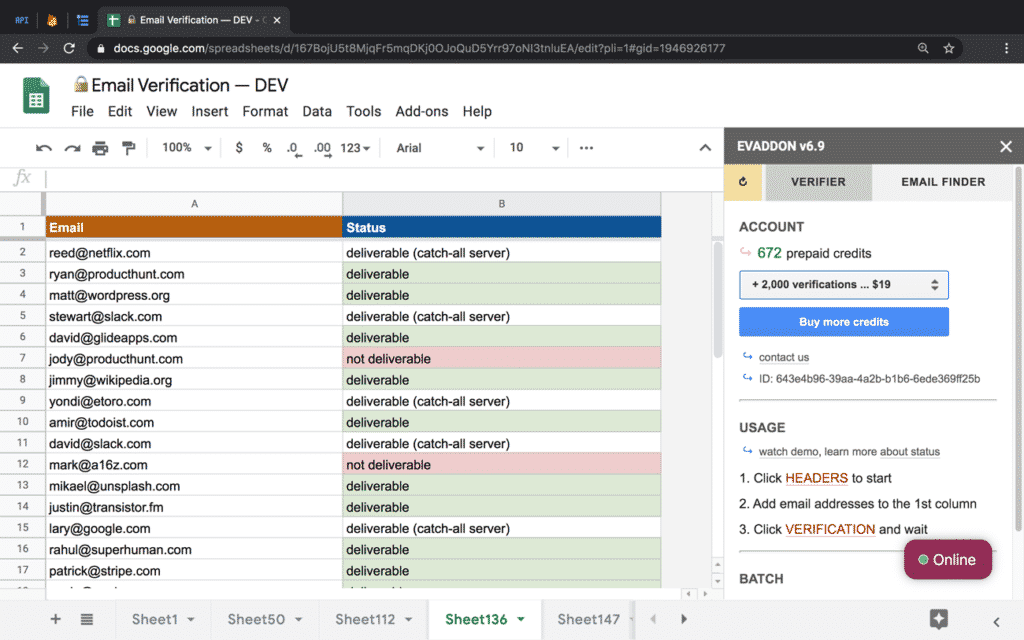 Payment
Flexible billing options
NeverBounce offers a free trial. Moreover, it provides an opportunity to pay as you go or choose a suitable subscription plan. You will save 20% if you subscribe to a yearly plan.
Pay as you go service
Email Verification Add-on gives 850 free credits and offers some pre-paid packages. Pick an appropriate option depending on the needed amount of verifications.
Final thoughts
An email verifier is an irreplaceable tool to ensure that your letters are targeted towards real email addresses. Neverbounce and Email Verification Add-on allow you to validate the contacts in a simple and fast way.
Which one should you choose? The one that fulfills your requirements and is convenient for you.