For email marketing, it is crucial to have a clean contact database. Email Verification Add-on and VoilaNorbert platform provide an opportunity to check your contacts and reach potential leads easily.

Take a look at the core values of each of these email validators: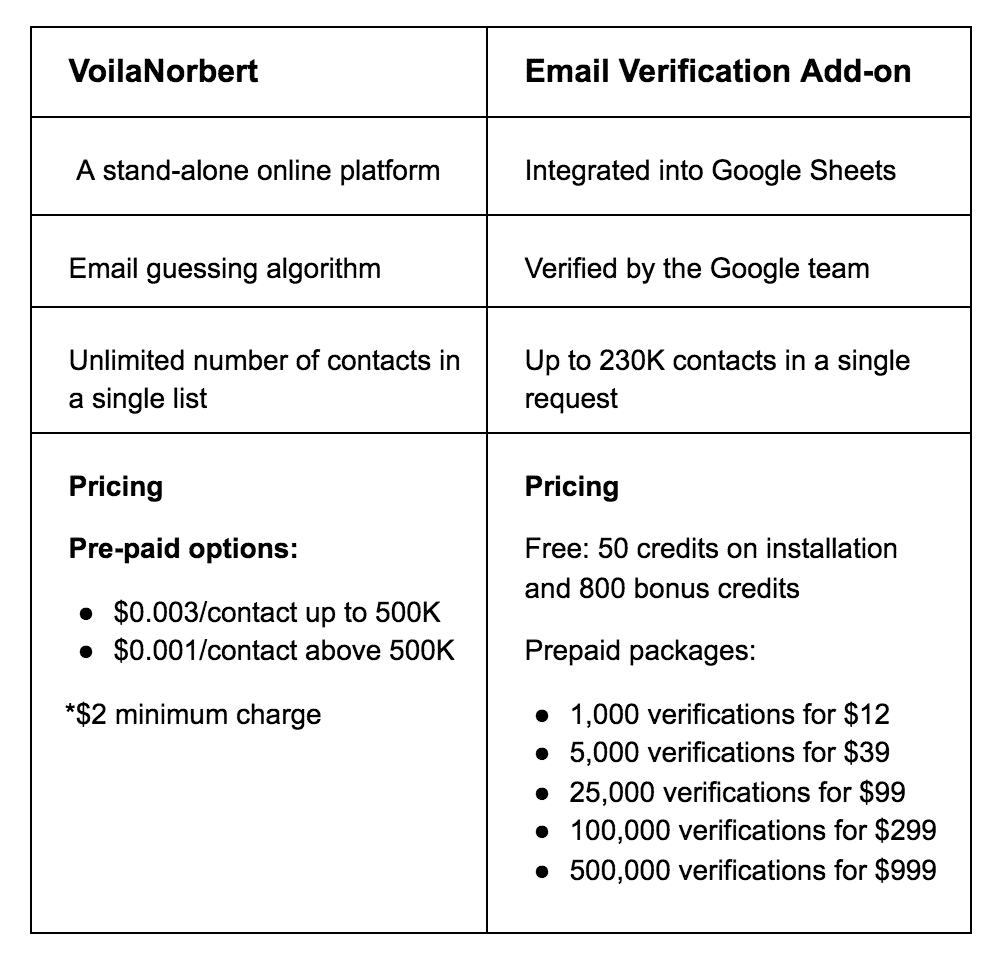 Usage
Simple and accurate tool
You don't need to create an account or sign a contract for using the functionality of VoilaNorbert service. Specify how many emails will be verified, upload the file or copy and paste the contacts from the spreadsheet. Then, pay for a certain number of verifications and proceed to check contacts online.
Integrated verifier
Email Verification Add-on is easy to use because it is integrated into Google Sheets. All you need to do is to install the add-on from the G Suite Marketplace and apply its functionality to the spreadsheets, where the contacts are.
Security
Email guessing algorithm
VoilaNorbert doesn't store anything other than your email address in its system. It uses an email guessing algorithm that tries to identify information about contacts based on the data you input.
Google verification
Email Verification Add-on has been tested by the Google team and has a high level of security. Your data isn't collected on its services and doesn't spread further.
Capacity
Unlimited number of contacts
In terms of verification volume, you can verify as many or as little emails as you need in a single file with VoilaNorbert software.
Up to 230K contacts
With Email Verification Add-on you are allowed to verify the lists of up to 230,000 contacts directly in the Google Spreadsheet. The process takes 5 min for up to 300 contacts and 30 min for more emails.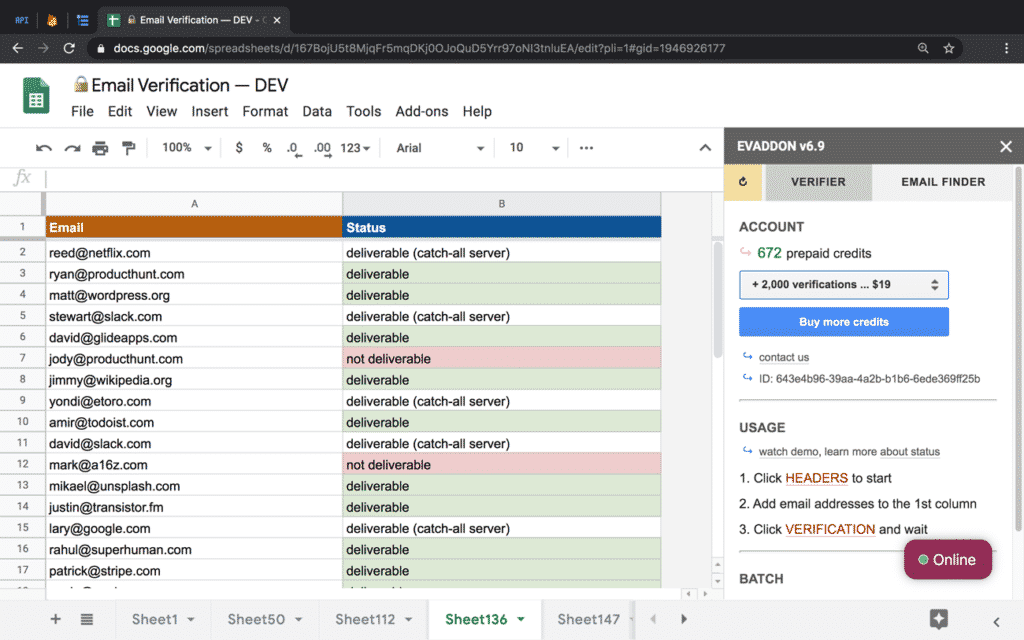 Payment
Pre-paid option
On the VoilaNorbert platform, a pre-paid option is available. Buy a necessary number of verifications and proceed to identify email addresses. The price is $0.003/contact up to 500K and $0.001/contact above 500K.
Various options
When you install Email Verification Add-on, you automatically get 50 verifications for free. Moreover, if you add your email, write a review, and share the add-on on Linkedin, you receive 800 more free credits. Also, there are different pre-paid packages starting from $12 for 1,000 verifications.
The bottom line
The email verifier really helps to clean out the junk contacts and ensure that your marketing account will not be blocked. With Email Verification Add-on and VoilaNorbert service you just add a list of email addresses and get verification data simply and quickly.